Got a Nelson event? Click here to see how to get it listed in this calendar. 
Click on Event title for more information for each event.
Double Bill: Rafael Popper-Keizer, cello; Paul Klemperer, saxophone
Two musicians with unique ties to Nelson will be featured in a double-billing at the Town Hall on Friday, August 19.
Rafael Popper-Keizer is a noted cellist, and also the director of Monadnock Music, which got started in 1966 when conductor James Bolle brought several of his musical colleagues from the big cities for concerts in the Nelson Congregational Church. The legacy of Nelson is important to Raphael, who is excited to come and perform a solo cello set. 
For the second part of the concert we welcome saxophonist Paul Klemperer. Paul spent his childhood summers in Nelson, and has stayed connected to this town. Over the last ten years he has increased his summer time presence here, a comfortable respite from Austin, where he is active as a blues and jazz musician, teacher, and organizer. Paul has developed a nice group of musical associates from this area, some of whom may join him for this concert.
The concert is free and open to all. 
---
Extensive Musician's Bios
Hailed by The New York Times as "imaginative and eloquent" and dubbed "a local hero" with "silken tone and subtle attention to each note" by the Boston Globe, cellist Rafael Popper-Keizer maintains a vibrant and diverse career as one of Boston's most celebrated artists. He is principal cellist of the Boston Modern Orchestra Project, Emmanuel Music, and the Boston Philharmonic Orchestra, and a core member of many notable chamber music organizations throughout New England, including the Chameleon Arts Ensemble and Winsor Music. His 2003 performance with the Boston Philharmonic of the Saint-Saëns Concerto in A minor was praised by the Globe for "melodic phrasing of melting tenderness" and "dazzling dispatch of every bravura challenge;" more recent solo appearances include Strauss' Don Quixote with the Boston Philharmonic, Beethoven's Triple Concerto with Emmanuel Music; and the North American premiere of Roger Reynolds' Thoughts, Places, Dreams with sound/icon.
Mr. Popper-Keizer is a member of nationally acclaimed conductorless string ensemble A Far Cry, which has won recognition for both artistic excellence and its democratic model of collective decision-making at every level. In 2017, A Far Cry commissioned, premiered, and recorded a new piano concerto by Philip Glass, with soloist Simone Dinnerstein. The release of this recording was followed up a few months later by the group's album Visions and Variations, which received two Grammy nominations. A Far Cry's recent and upcoming performance schedule includes tours of California and Colorado, regular appearances at the Rockport Music Festival and Central Park in NYC, and a concert at the Kennedy Center in DC featuring the Tchaikovsky Serenade played from memory.
In 2019, Mr. Popper-Keizer was appointed Artistic Director of Monadnock Music, where he has been in residence every summer since 2002. Based in Peterborough, New Hampshire, the central mission of Monadnock Music is to bring free concerts featuring world-class artists to the villages and towns of the region. Over the course of the festival's more than fifty-year history, Monadnock Music has worked closely with composers including Aaron Copland, Elliott Carter, Roger Sessions, and (in more recent years) Richard Danielpour, Dalit Warshaw, and Jing Wang.
Mr. Popper-Keizer has been featured on over two dozen recordings, including the premieres of Robert Erickson's Fantasy for Cello and Orchestra, Thomas Oboe Lee's cello concerto Eurydice, Yehudi Wyner's De Novo for cello and small chamber ensemble, and Malcolm Peyton's unaccompanied Cello Piece. His most recent solo recording, on Musica Omnia, is a disc pairing two monumental works for unaccompanied cello: Zoltan Kodaly's notoriously virtuosic Sonata for Solo Cello and Ralf Gawlick's At the still point of the turning world, a powerful exploration of sonority and silence written for and dedicated to Popper-Keizer.
As an alumnus of the New England Conservatory (A.D. 1999, M.M. with honors 1997), Mr. Popper-Keizer studied with master pedagogue and Piatigorsky protégé Laurence Lesser; at the Tanglewood Music Center he was privileged to work with Mstislav Rostropovich, and was Yo-Yo Ma's understudy for Strauss' Don Quixote under the direction of Seiji Ozawa. His prior teachers include Stephen Harrison of Stanford University, and Karen Andrie at the University of California in Santa Cruz. At the age of ten he began undergraduate coursework in mathematics at UCSC, where he was accepted as a full-time student two years later (B.A. 1994).
Mr. Popper-Keizer is currently on faculty at Gordon College in Wenham, MA, and has previously taught at Philips Exeter Academy, Brandeis University, and the Massachusetts Institute of Technology. With A Far Cry, he has participated in college and university residencies nationwide, including guest lectures and presentations at Baldwin Wallace University and Connecticut College, and masterclasses at Yale University.
---
Paul Klemperer works as a bandleader, teacher, composer and writer.  His team at P.K.S.A.X. provides a variety of music for all events, as well as educational classes, workshops, and lectures, and many other products and services.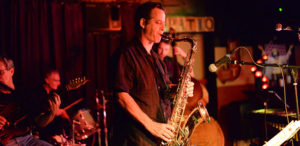 Born in Boston, Paul discovered jazz at an early age, sneaking into smokey clubs by age 13. He studied with jazz legends Archie Shepp, Max Roach and Ray Copeland before moving to Austin in 1982.  There he has worked with many great artists in the blues, roots and jazz traditions, such as Marcia Ball, Angela Strehli, Doyle Bramhall, Malford Milligan, Seth Walker, Nick Curran, and members of the Fabulous Thunderbirds.
Paul earned his master's degree in Ethnomusicology at the University of Texas in 1991. He teaches private and group classes in clarinet & saxophone, jazz history & theory, and issues in music & culture.  He also writes fiction and essays on many topics.
Paul has produced five CD's representing the groups he leads: Manteca Beat (classic R&B, Latin, jazz, and international cabaret), My Exotic Other (world music), The Klemperer Group (acid jazz & experimental), and Paul's original jazz and pop compositions. He has toured nationally and internationally for over 30 years, and continues to divide his time between Austin and the road, bringing his soulful saxophone sound across the U.S., Latin America, Europe and Asia.
In addition to his own groups, Paul plays with numerous Texas bands, spanning many genres.  Here's a partial list:
Marcia Ball, Mr. Fabulous, The James Hinkle Band, The Jitterbug Vipers, The Jazz Pharoahs, The Bustamovalators, Larry Lange and his Lonely Knights, The Copa Kings, The Austin Jazz Band, Austin Community College Big Band, Memphis Train Revue, Hot Wax, River City Soul, Duck Soup, Sangeet Millennium, Bamako Airlines, Zoumountchie, La Strada, The Golden Arm Trio, Bee vs. Moth.