Robin Becker shared with us two poems, a nod to the character of Harvey Tolman, from her book The Black Bear Inside Me. 
Clearing
Since Harvey's on his tractor for the first
cutting of the summer I'm glad I picked
paintbrush hawkweed and daisies early
this morning   Wild turkeys squawking at the edge
of the mowing complain his noisy occupation
displeases them exposed to fox and falcon now
Where will they hide to feed   He chose today
for the dry breeze rifling rush and bluestem
All of July and August lie ahead but I want only June
light dappling mountain ash   They say to live in the present
requires we let go every second of our lives
He keeps a mowing by mowing for July's meadow rue
and asters   To live in the present they say become a fern
a prism a membrane through which time mows
The Fix
Harvey says it'll hold for now meaning the gasket
he's rigged to stop the leak in the water tank
it's what he says when he conjures a grasp of wood
notched to catch a door that always swung shut his supply
of couplers and pipe makes visible the makeshift
nature of our daily operations the contingencies
he concocts from the hardware store of his truck to hold
for now electrical and structural salvations he believes
in the temporal the neighborly the seasonal the salvaging
of all re-usable metal and wood in the inevitable
breakdowns coming towards us about which he chuckles
installs a stop valve and tightens the joint by hand
knowing a system undergoing a thermodynamic process
can never completely return to its previous state
and a leaky valve in faucet or heart requires mechanical
gods who say wiping their hands  it'll hold for now
sutured duct-taped now rubber-banded now
stretching elastic now to reach at least next week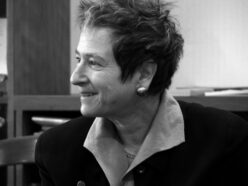 Robin Becker received the Lambda Award in Poetry for All-American Girl and has held fellowships from the Massachusetts Cultural Council, the National Endowment for the Arts, and the Radcliffe Institute at Harvard. Her books include Tiger Heron, Domain of Perfect Affection, The Horse Fair, and GiacomettiÕs Dog. Professor Emeritus of English and WomenÕs Studies at Penn State, Becker serves as poetry and contributing editor for the WomenÕs Review of Books.